US Property Tax Comparison by State
Posted Apr 11, 2017 by Martin Armstrong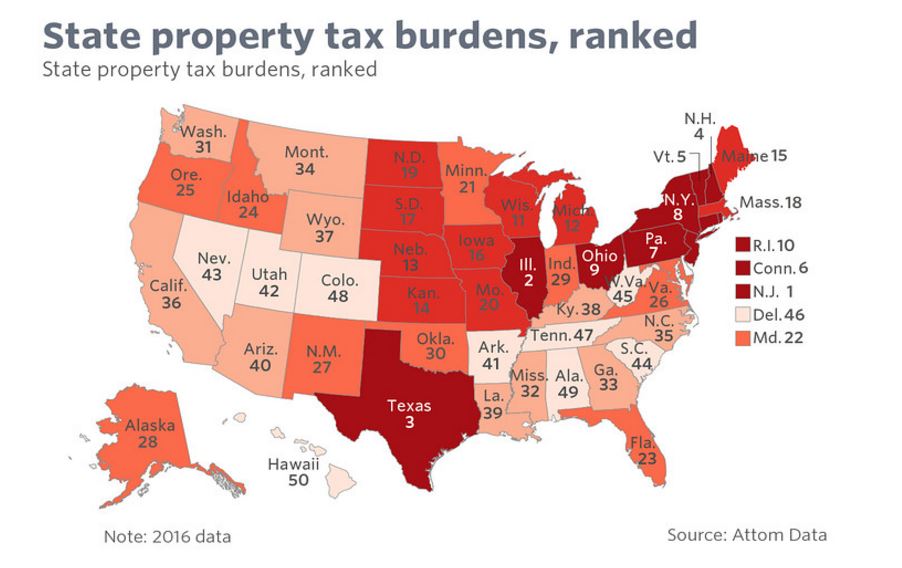 The latest report on tax comparisons within the USA has been released. A report from
Attom Data
shows just how nuts things are becoming with regard to taxes. Property taxes have become really insane in the North. The average annual property tax bill in Alabama in 2016 was $776 compared to the the highest average is New Jersey where it stands at $8,477.
Now filter in the State Income Taxes and what emerges is human nature. For all the people who complain about multinational companies moving offshore and then deny that it is tax related and try to characterize that as simply labor is cheaper, need to look more closely. The multinational companies I restructured we looked at the whole picture. Wages were a small part and only one component. What was the amount of social taxation on top of the wages, property taxes in a region, and then the corporate tax. Ger – it looks like the individual is making the same analysis.
The net migration of people within the United States mirrors the same thing taking place corporately on a global scale. They are leaving the highest taxed states and moving to the lower taxes states. Taxes are more than just what you pay, they push up the cost of living because everyone is paying a higher tax rate. I took a friend out with his family down from NJ and the bought ice cream cones. The bill was about half that of what they pay at the Jersey shore. I said see: high taxes ripple through everything within the economy raising the price of everything you buy. The net bottom line – taxes rob much more of your disposable income than anyone actually attributes to government directly.